®
Road Equipment Service Co. Ltd.
Manufacturer of Equipment for Aggregate and Asphalt Plants
<![if !vml]>
<![endif]><![if !vml]>
<![endif]><![if !vml]>
<![endif]>
Our Product Line
What ever the project requirement, we offer a solution from design, fabrication, installation and servicing. All fabricated work is done in our welding and fabrication plant. With our technicians averaging over 20 years experience. Road Equipment produces quality equipment, competitively priced with excellent service. Our technicians are experts at repairing and revitalizing every type of plant and paving equipment ever made... giving you the highest performance possible for your investment. We focus on bringing solutions and quality equipment for the roadbuilders.
New equipment or rebuild your system - AC Tanks - AC Pump Skids - Drum Mixers & Dryers - Baghouses - Conveyors - Cyclones Cold Feed Systems - Duct Work - Elevators - Mineral Filler Systems - Post Drum Mixers - Recycle Bin Systems - Storage Silos - Industrial Automation Process Controls - Pavers (completely overhauled) - Plant (relocate, disassemble and assemble).
Asphalt Storage Tanks
Available in both horizontal or vertical. Capacities up to 35,000 gallons, tanks are coiled heated allowing the asphalt to heat more consistently, maintaining a generous reserve for high production. Each tank is covered with four inches of high - density fiber insulation and then covered with embossed skin for high thermal retention. The tanks come with a mechanical support walkway on top.
Drum Mixers and Dryers
We custom fabricate a complete drum or dryer for your existing plant.. We fabricate drums and dryers to fit any existing frame. Flights for each drum or dryer are designed for maximum production with minimum fuel usage.
(a) What is the moisture content of your aggregate? (b) What combination of drum slope, length and diameter is best?
For maximum efficiency consult Road Equipment.
Post Drum Mixer
The benefits with a Road Equipment post drum mixer you can run two HMA production lines, one making mix in batches and one making mix in continuous runs. The facility will need storage silos, a diverted chute for the dryer, weigh bridges for the aggregate conveyor and related controls.
The post drum mixer functions as a pugmill. Existing batch facilities can be retrofitted with the post drum mixer as side tower mounted or a stand-alone unit. Operation - Hot aggregate from the dryer is diverted to the post drum mixer instead of going to the bins of the batch tower. Liquid AC is injected into the post drum mixer and the aggregate, AC, rap and fines are thoroughly mixed. The mix is then conveyed to a transfer slat conveyor to the main drag for silo storage. The batch tower can run simultaneously with the post drum mixer.
Mineral Filler Systems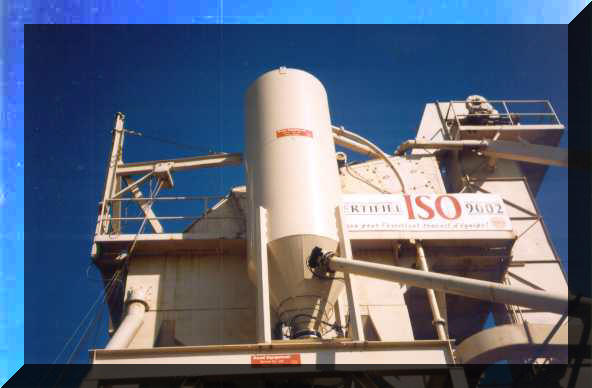 The Road Equipment pneumatic material handling system is a low pressure system designed to transfer fine material into weigh hoppers and feed bins. Performance - Due to the high density and low velocity weight tolerances can be achieved with a high degree of accuracy. For this same reason dust is virtually eliminated. Cleaner Plants - Materials are conveyed to, through and from production inside completely enclosed, self cleaning sanitary systems. Lower Material Cost - Plants, receiving as little as one truck a month benefit from bulk purchasing ... losses from spillage, broken bags, moisture and contamination are eliminated. Designed - To meet each customer's requirements, it is operated by means of available air. It is a low velocity, high density system, eliminating the high dusting characteristics of other systems.
Hot Mix Storage Silos
Our storage silos come in sizes from 100 to 300 tons of mix. Silo Body - 100% welded.
Side walls extend down to enclose the cones and are bolted or welded to the support frames
The body is covered with high density fiber. Silo Cone - 100% welded. Cones are heated with
oil or electric. Dual or single clam gates, independently driven by air cylinders. As an option,
the cone may be fully lined with either chrome carbine plate or AR 360 plates. Energy saving
with rapid heating. Offers enormous savings in truck cost, thus alleviating fuel and management
overhead.
Recycle Bins & Coldfeed Bins
Our bin walls are fabricated from abrasive resistant steel plate, with steep walls and valley angles, the discharge transition is steeply tapered to ensure an even flow of rap regardless of the fullness of the bins. The feeders hoppers are a self-relieving with adjustable gates for complete flow control. Each feeder in driven by a separate variable speed drive motor which offers aggregate feed control accuracy. All sizes available, or they can be custom built to match your existing system.
Baghouse - Portable or Stationary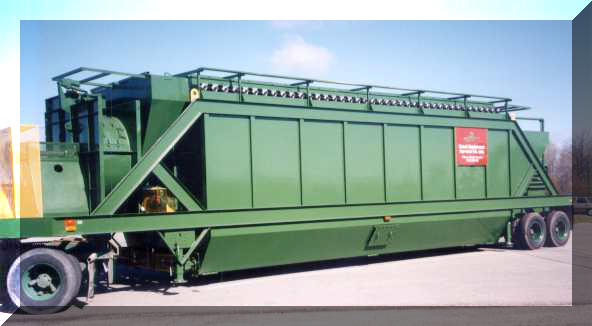 Portable Baghouse, ranging in sizes from 20,000 to 90,000 CFM, travels in a single unit. The topside of the Baghouse is enclosed with folding handrails and is easily accessed by a built-in ladder. Sampling ports facilitate pollution testing. Dust screws run in lubricated bearings easily accessible through ground level doors.
Assembled with filter bags, cages, injectors, blowpipes, hopper augers, drives, electrical wiring and high efficiency radial tip fan. Low profile and built-in suspension and wheels for highway travel. Pulse air jet cleaning and adjustable pulse panel. Stationary Baghouse, range in sizes from 20,000 to 90,000 CFM.
Road Equipment Service Co. Ltd
7020 Tranmere Drive
Mississauga, Ontario, Canada
L5S lL9
Ph: (905) 612-8767 Fax: (905) 612-8337
Email roadequip@sympatico.ca